1000 Serias Rotary Joint for High Speed Paper Machine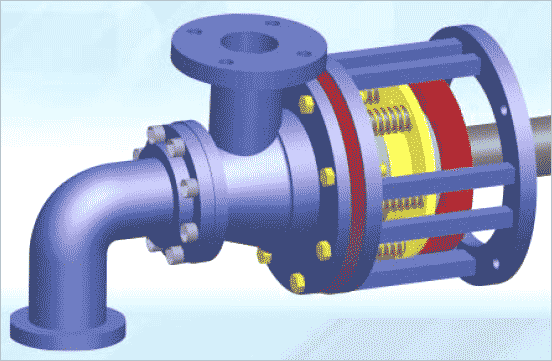 Unique Features:
The cast of "Carbon" brand "1000" series rotary joint is a Minor factor because of its unique features like...

ROI [Return Of Investment]
MBTM [Mean Time Between Maintenance]
TCO [Total Cost of Ownership]

Size : 2" to customized

Operating parameters:

Temperature : 200C {max}
Pressure : 15 BAR. {max}
Speed : 1000RPM {max}
"Carbon" Brand "1000" series rotary joint with cantilever stationary siphon system are the state of art technology for the high speed paper machine. Its most demanding rotary joints for better condensate removal system at high pressure with trouble free long life operation.
"Carbon" Brand "1000" Rotary joints design suits pressure on the seal ring to keep it securely seated against the seal face plate. The seal face plate is attaches to the journal or to a filler flange. The seal face place rotates while the bellow remains stationary. The seal ring is free-floating to accommodate angular and offset misalignment.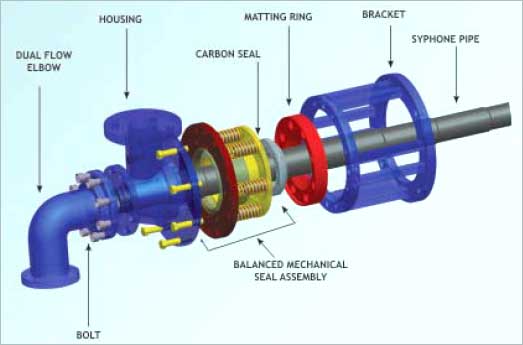 Advantages
Balanced Multi spring seal with optimized pressure with metallic bellow [optional]
For high speeds and pressure up to 15 kg. At 200 Celsius temp.
Large flow area for low pressure loss.
Seal under compression load
Accommodate thermal expansion
Seal design permits run-out and misalignment
Reduce installation time
Why the Carbon steam joint is better
Lightweight design for easy installation Accommodates thermal expansion up to 20mm Balanced seal design handles run-out and angular misalignment.
Large flow area for low pressure drop
Cantiliver Stationary Syphon System
The anti corrosive steel clamp and carbon filled PTFE tip syphon shoe is attached with split clamp. Due to CFT material shoe never damage the dryer shell even its contact with the dryer shell. The stationary siphon also has axial adjustment of the the vertical support bracket for correct mounting inside the dryer. The horizontal support pipe can easily slide in to the dryer journal hole. And its lock inside the rotary joints elbow with 100% positive locking system.

Stationary syphons designed for effective condensate removal

The Carbon 1000 series rotary joint is designed specifically for the cantilever stationary syphon. The rigid bracket supports the syphon through a horizontal tube that passes through the dryer journal. The tube is held in the joint with a taper face with positive locking system. The syphon is positioned in the dryer and locked to the horizontal support tube.

Why the carbon stationary syphon is better

Low operating pressure differentials for efficient operation at high speeds.
Positive locking system and rigid mounting make reliable at high speed.
Controlled condensate levels for more efficient and consistent heat transfer.
Energy Conservation
Our products plays trig role energy saving sector in paper & pulp industry brings down production cost by reducing energy bills as a consequence of efficient functioning.
Feature of rotary joint-huge stems loss production loss – high costing of products.

Sealing Arrangement
Multi spring seal design, metallic bellow (Optional) loaded and convex seal ring makes "1000" series rotary joint seal different than conventional rotary joints. For these advantage carbon brand rotary joints even under the most difficult operating conditions.
Carbon Brand 1000 Series Rotary Joint Drawing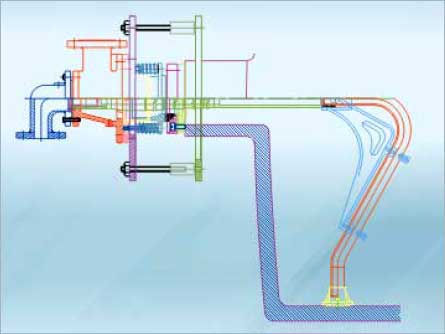 Ask us for Any type of Custom Made Rotary Joints and Special purpose Rotary Joints